Born in England in 1947 Otis Futhermucker began singing and playing guitar and harmonica at age 14. Through the early 1960s he opened for some of the big names on the British Blues circuit including the Graham Bond Organization with Jack Bruce and Ginger Baker, John Mayall in his Eric Clapton and Peter Green period, Alexis Korner, and also Little Walter, Lightnin' Slim, and Champion Jack Dupree during their European tours. First single released in 1964 "Buzz with the Fuzz" on bass with King Cobra and the Rattlesnakes was the only record ever banned by Radio Caroline, the first of the British offshore pirate radio stations.
Current interests include singing really filthy lyrics, stopping his hair falling out, goldfish-sexing and teaching elementary blues guitar and harmonica to disadvantaged kids.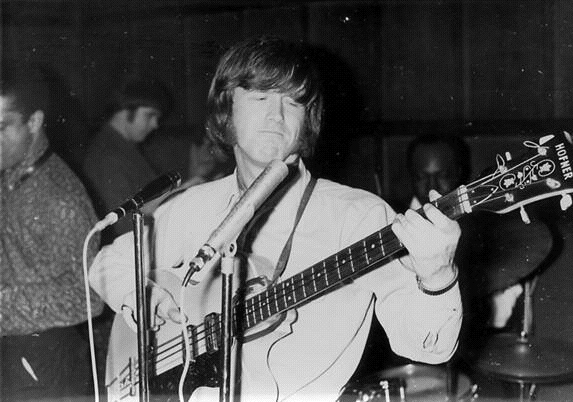 The young Reverend fronting his blues band Green Gilbert and the Nasties, at the Newman Rooms in Oxford, England, circa 1967. Note on the left tenor sax man Kendrick and just visible behind Otis the notorious but excellent drummer Vincent Byfield. Vince's X or Y-chromosomes and a lot more of his DNA are now being expressed in a surprisingly high percentage of the population of Oxford
---
Green Gilbert and the Nasties played in pubs around Oxford from1966 until about 1970, specializing in the blues of Elmore James, Junior Wells, Sonny Boy Williamson and others of the Chicago blues genre. The name of the band was based on obscure Australian slang, which the Reverend will be glad to reveal in all its scatological glory in return for a shot of "tea".

A six-year stint in Australia found him playing in various jazz bands in both the New Orleans and "Lounge-Lizard" styles until lack of money, greed and lust drove him to move to the USA in 1981.

After a 15 year period of temporary insanity when he played absolutely no music in Connecticut, Illinois, and Michigan, he began playing guitar and harp again in Indianapolis and finally got his head on straight and moved to Houston in 1998. Since then (for reasons known only to the Inland Revenue Service and the Federal Witness Protection Program) he has appeared irregularly in the Houston area under assumed names such as Henry Allen, Average Joe, Grotty Ziegler, and Aussieman Diaz, Otis's influences go back to Jimmy Reed, Mose Allison, J.B. Lenoir, Ray Charles, Lightning Hopkins, Slim Harpo, Brownie McGee and Sonny Terry, Duster Bennett, and the Bonzo Dog Doodah Band. His repertoire centers on old jazz of the 1920s and '30s and the blues classics after the Robert Johnson period.
| | |
| --- | --- |
| The much hairier Reverend in Canberra Australia in 1977 playing bass in a jazz trio with drums, vibraphone and on piano the fine jazz pianist Tom who specialized in Mose Allison numbers. Note the tux! This picture was taken in a very swank restaurant called Bogart's (now defunct) populated by wrinkly diplomats and their floozies and occasionally by irate wives brandishing broken champagne bottle necks (very classy). | |
---
More recent photos of the Reverend Doctor. After moving to Houston Otis began playing blues in bars in the League City and Dickinson area. He developed a small following (mainly midgets from a touring burlesque show) who came to listen at the amazing "Jeaux's Irish Cajun Bar and Deli" on Highway 35 in Dickinson every Saturday afternoon. Otis was accompanied by a fiddle player (whose name has been lost in the mists of Jack Daniels) with real chops and together they played a mixture of blues and Texas country tunes.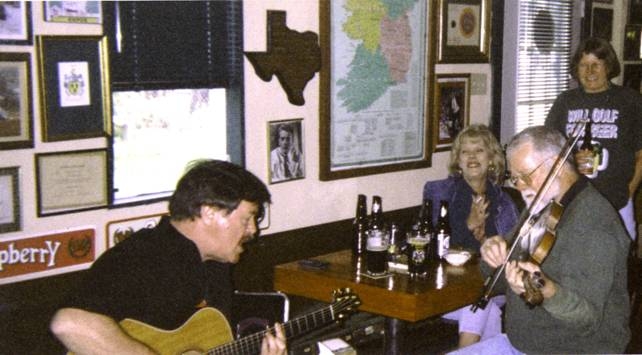 Otis at Jeaux's Irish Cajun Bar and Deli, Dickinson, Texas 2000
The Reverend also played at several biker bars in the area including "Race Cars and Guitars" in Pasadena owned by a survivior of the Lynyrd Skynyrd plane crash: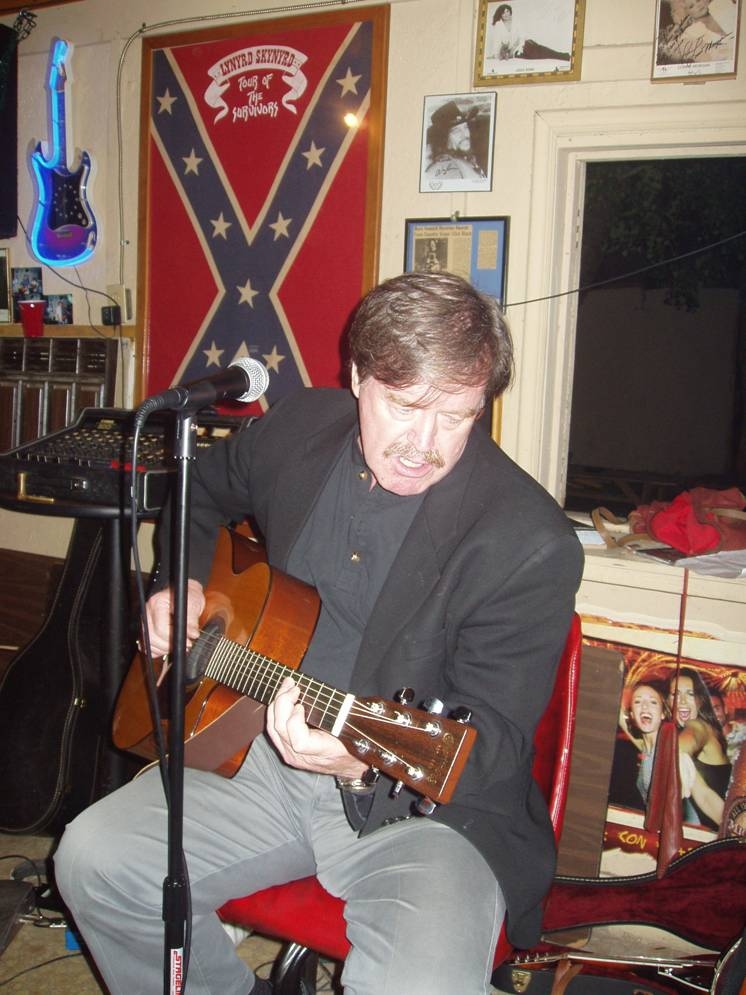 Otis at Race Cars and Guitars, Pasadena, Texas 2004
At that bar, which had an excellent and attentive crowd, the Reverend was fortunate in being able to respond to requests for Free Bird (in this bar they weren't heckling - it was a very serious request) by launching into his anthemic harmonica "B- Capella" version of Freddie King's "Love Her With a Feeling". At the critical turning point in the song, just after the verse "One leg to the East, one leg to the West" the Reverend was forced to beat a hasty retreat out the back door, pursued by several attractive women with very poor eyesight. Otis managed to escape with only minor cuts and bruises through extensive "negotiations" with his pursuers. "Love Her With a Feeling" has become one of The Reverend's trademark numbers, and incorporates his innovation of playing two harps (one in D major, the other in A minor) at the same time as shown below: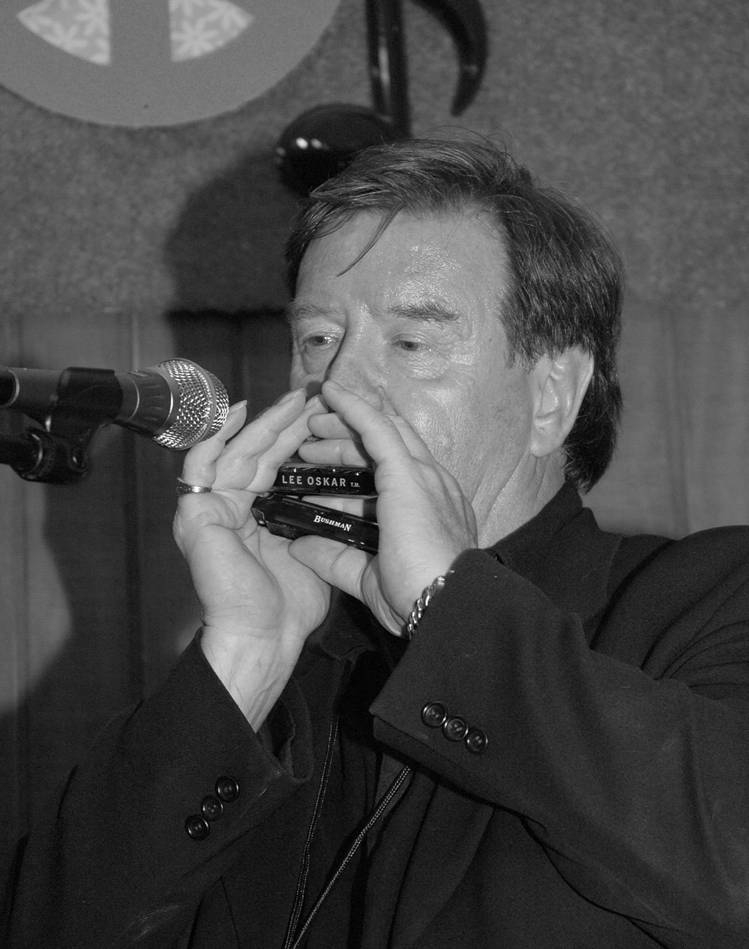 Otis at Spudstock, JP Hops House, Highway 6, Houston Texas 2005

In this case the Bushman harp is in D and the Lee Oskar is in A minor. Really nice counterpoint playing can be achieved by chording on the D in crossed harp (position two) and alternating the solo on the A minor harp (in position one and two). It is, however, extremely important when flipping from the Lee Oskar harp to the Bushman, not to loose control and push the major harp up your right nostril. In one situation where this unfortunate event occurred, The Reverend was unharmed, but a lady in the front row required medical attention due to partial asphyxiation caused by excessive laughter and rolling on the floor. LORD HAVE MERCY!